Greening the construction sector: For C&D waste management and dust control
Dates: February 15 - 18, 2022
Last date to apply: February 10, 2022
Venue: Anil Agarwal Environment Training Institute, Nimli (near Alwar), Rajasthan 
COURSE FEES:  Rs 20,000 (sponsorships and discounts available subject to satisfactory fulfilment of application form) * 
The current construction chain including construction and demolition (C&D) waste management, site management for dust control, planning and development of related infrastructure among others in most cities is resource-inefficient and environmentally insensitive. As per latest source apportionment studies, dust potential of the construction sector and other associated sources was responsible for up to 41 per cent of PM10 generation in Delhi.
To curb these environmental impacts, the environment ministry issued several guidelines for dust control from C&D activities. C&D waste management rules 2016 were also notified. However, as per CSE's assessment, implementation of these and earlier regulatory interventions has been very weak. The problem is not limited to Delhi – it can be witnessed across the 124 non-attainment cities (NAC) in India. In extreme circumstances, banning construction activities altogether for extended periods of time has emerged as a measure, which has a severe economic impact. A combination of actions to green the entire C&D waste chain is the need of the hour.
CSE invites applications for an on-site course on this critical subject. The course aims to equip construction managers/developers and urban local bodies (ULBs) with the necessary technical knowhow for efficient C&D waste management and dust mitigation, both at the city and site levels. Areas ranging from regulatory frameworks to planning for infrastructure to progress reporting protocols as required by Central Pollution Control Board (CPCB) for NACs will be covered in the training.
COURSE HIGHLIGHTS
Rules/guidelines for C&D waste management and dust control measures -- their respective adherences/non-compliances and case studies from non-compliant cities
Legal, policy and administrative frameworks of C&D waste management including roles and responsibilities of actors involved.
Waste estimation and extrapolation at city and site levels.
Planning for infrastructure such as collection points, transfer stations, transportation routes, vehicle fleets, processing technologies, recycling site identification etc.
Technology and techniques for onsite and offsite waste reduction/recycling
Impact assessment and self-declaration responsibilities for the construction sector
Effective construction management at sites for mitigation of dust/air pollution and waste management.
Reporting and action planning requirements for clean air based on various legal/ administrative needs
Good practices from Indian cities working on C&D waste and dust control
COURSE COORDINATOR
Sugeet Grover,
Deputy Programme Manager,
Sustainable Habitat Programme, CSE,
9818443366,
sugeet.grover@cseindia.org 
COURSE DIRECTOR

Rajneesh Sareen,
Programme Director,
Sustainable Habitat Programme, CSE,
rajneesh.sareen@cseindia.org
Flyer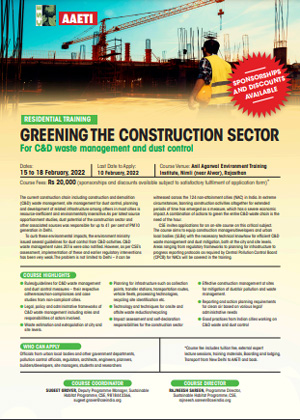 Download Flyer
Who Can Apply
Officials from urban local bodies and other government departments, pollution control officials, regulators, architects, engineers, planners, builders/developers, site managers, students and researchers
Course fee includes tuition fee, external expert lecture sessions, training materials, Boarding and lodging, Transport from New Delhi to AAETI and back.
Course Date
February 15 to 18, 2022
Last date to apply
February 10, 2022
Course Fees
Rs 20,000 (sponsorships and discounts available subject to satisfactory fulfilment of application form)*